This video spot is another example of what can be done with a larger budget (in this case, well over $100K). This piece utilizes all original footage shot with a complete crew and all pro equipment. Running time is approximately 60 seconds.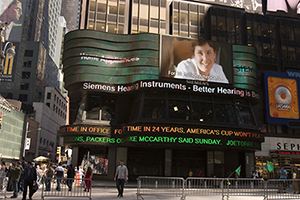 Seen above is a still frame of this video clip as it was shown on the Jumbotron in Times Square with closed-captioning.
View the 30 second version above.
---
Additional Info
Client: Siemens Hearing Instruments
Link: Visit their website
Industry: Medical Devices/Audiology
Use: Live Events, In-Office/POS, Direct Mail
Target Audience: Consumers/General Public
Agency: Mangos

---
My Contributions: