Content Drives Traffic, Affiliates Generate Revenue
The Get Accurate Lyrics website is a simple database of song lyrics with an advanced search engine. The site relies heavily on SEO to drive traffic and generate revenue. When a user drills down or lands on specific listings, affiliate content is tailored around the user's interests. When users click-through affiliate content and make a purchase, revenue is generated for the site.
Be Found On All Devices
This site is mostly mobile ready but presented some design issues with regards to affiliate content. Due to the fact that affiliate content (i.e. ads) is currently only available in limited, non-responsive formats, some of that content doesn't always fill the screen from edge-to-edge. As affiliates continue to provide new options for their ads, this situation can be addressed and adjusted.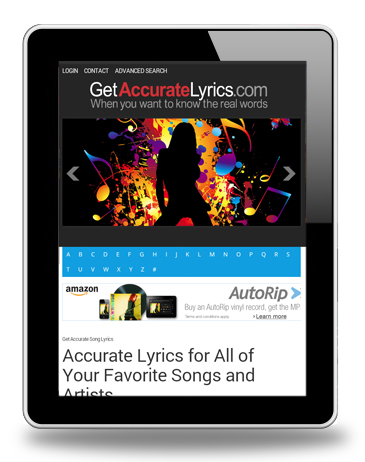 Additional Information
Client: GetAccurateLyrics.com
Link: Visit their website
Industry: Music
Target Audience: Consumers/General Public