---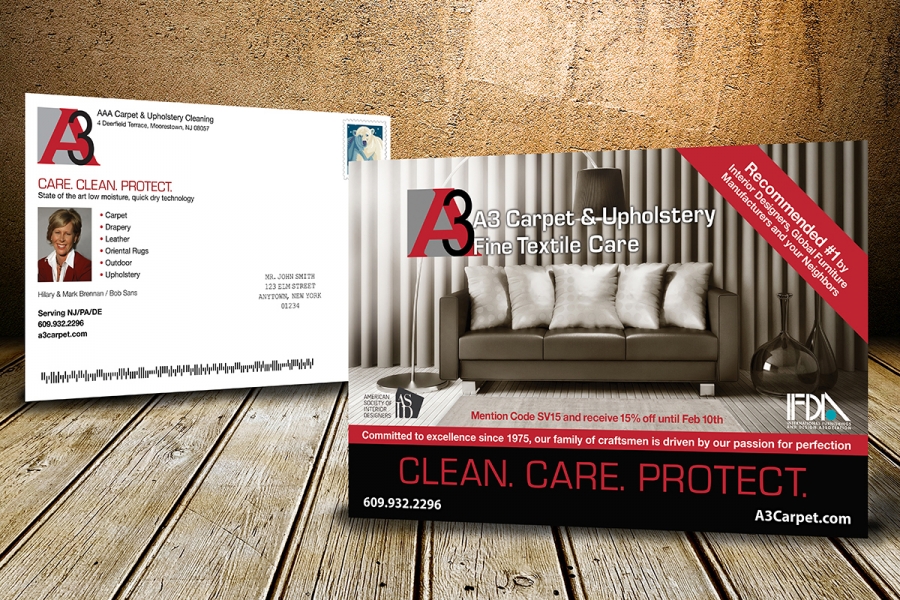 This project was a standard 2-sided, 4-color postcard to potential customers. A spot varnish was utilized to help the logo and core message pop and give the piece a high-end feel. Postage and addressing was printed during the digital print run. The design incorporated the established brand and messaging and targeted upscale clients.
A3 Carpet & Upholstery
Fine Textile Care
Recommended #1 by Interior Designers, Global Furniture Manufacturers and your Neighbors
Mention Code SV15 and receive 15% off until Feb 10th
Committed to excellence since 1975, our family of craftsmen is driven by our passion for perfection
Clean. Care. Protect.
---
Additional Info
Client: A3 Carpet & Upholstery
Link: Visit their website
Industry: Carpet & Upholstery Cleaning
Use: Direct Mail

Target Audience: Consumers/General Public
Agency: Total Marketing Solutions
Photography: Custom Composite
---